Hello. This afternoon, Mark, from GSW, came to my home to track down an electrical problem. All I can say is….what terrific service!
Coleman Clarke, Mt. Airy

Thank you Spencer for sending Jason and Chris to do their magic!
They are so professional and kind. I will always recommend you all!!! Here are some pics if you want to add to your Website… Hopefully when it's completely decorated I will send that pic too.
Hope you have a great day, KP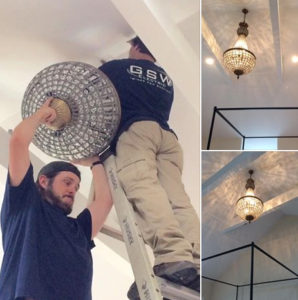 Hi Spencer,
We wanted to thank you for the high quality work that you did at our home last Friday. We are extremely pleased with the professionalism of your crew and very happy with our new lights!  Regards, Perry & Eva S. Frederick, MD
Just wanted to let you know your employee was absolutely amazing yesterday. An awesome worker and did everything he could to please us. Talked to me throughout the project and we will surely use your business again. Michael T.
George,
I do not remember if I ever formally thanked you for the service your team provided to our new home we built in 2010. If I did not, then I must say thank you very much. I am very grateful to you and your team for working with us on our first home build and now that we could not have done this project without GSW Electric. Everything is working well and there are only a couple of switches or outlets that we may have placed differently, but overall everything is working well. We hope that this email finds you and yours doing well during these tough economical times. Good luck to all of your endeavors.  Thank you,  Sean H.  Mount Airy, MD
A review from an Angie's List Member April 2013:
Brian installed a ceiling fan Brian replaced a light fixture.
Member Comments: Excellent. Brian cut a hole in the ceiling, went in the attic worked and installed the fan. Excellent asked me how long I wanted chain on light fixture in the kitchen and then replaced it.
Provided By: Sue W
Just wanted to mention that we couldn't be happier with how Mark and Chris took care of us. They did a fine job and I appreciate them being sooooo patient with me and my 'can you tilt that lamp shade just a bit, can you raise the chandelier just an inch, etc.'……truly they were a pleasure to work with. =) Thanks again and I'm sure that we will be calling you back sometime in the near future.
Provided By: Jorge
City: Bethesda
George,
Thanks for squeezing us in to complete the work on the basement lights last Friday… You guys did a terrific job for us and I will keep you as my first choice on my call list if electrical issues arise with the rental property. I have also recommended you to neighbors that have come to see the changes in the property. Continue your good and honest business practices and you will continue to enjoy a successful business. Best regards. With appreciation.
WE ALWAYS APPRECIATE REVIEWS, THANK YOU!